Perhaps nothing is more romantic than a wedding gown fit for a princess (or a queen)! Poofy wedding dresses are timeless and bring the wow factor to your wedding day look. Whether you go for a full A-line or a more dramatic ballgown skirt, a poofy wedding dress is bound to make heads turn in the best way. Keep reading to learn how to make a wedding dress poofier and to see some of our favorite frothy wedding dresses for every bridal style.
Types of Poofy Wedding Dresses
With the popularity of poofy wedding dresses comes so many styles of this timeless princess-style silhouette! We've rounded up some of our favorites below.
Strapless Poofy Wedding Dresses
A poofy wedding dress provides a great opportunity for a beautiful strapless neckline to contrast the voluminous skirt! A dress with a sweetheart neckline, like Martina Liana Style 1483, is classic and sexy at the same time. The A-line silhouette is flattering on the bust, while the volume on the skirt provides a touch of timeless romance.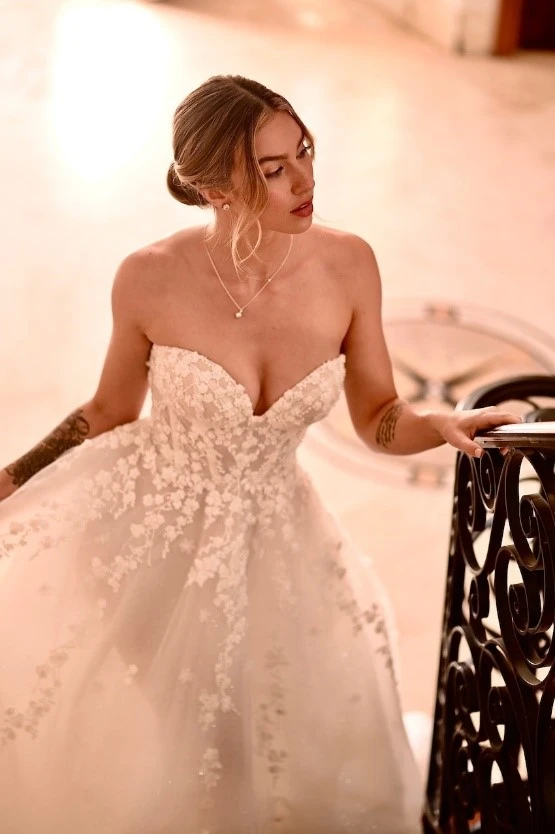 For the bohemian bride, Essense of Australia Style D3442 features a sweetheart neckline with an exposed boning corset and poofy removable sleeves that draws the eye to the smallest part of the waist and makes the skirt seem even more dramatic.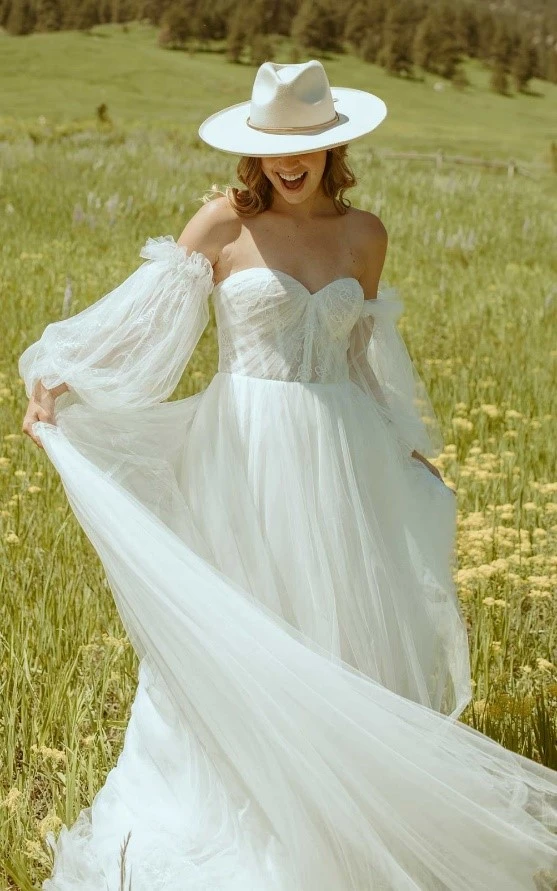 And finally, for a sexy yet classic look, brides can opt for a gown with a sheer lace bodice and a plunging sweetheart neckline, like Essense of Australia Style D2486. The pearl Mikado ballgown skirt brings the traditional bridal element to your look and is adorned with beautiful, covered buttons.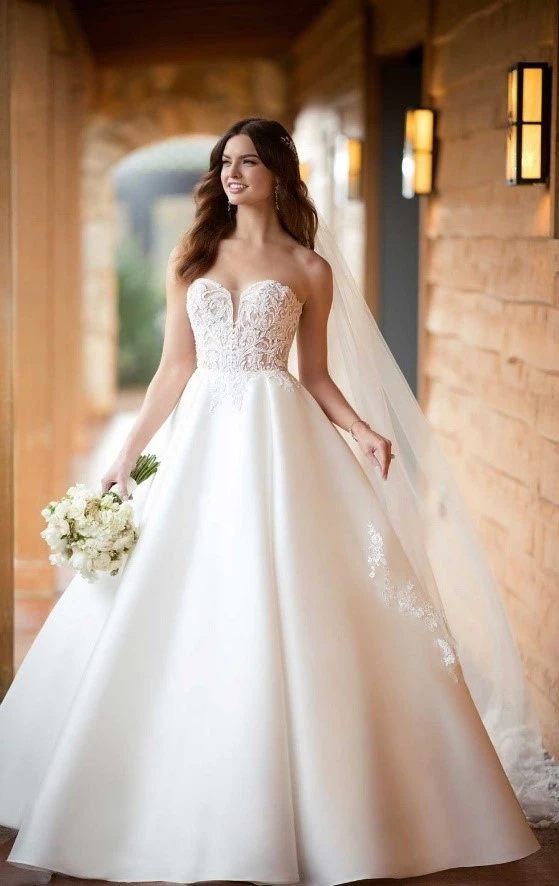 Poofy Wedding Dresses with Sleeves
The addition of sleeves can make any wedding gown more regal, especially when there is a poofy skirt! Brides can't go wrong if they opt for lacy off-the-shoulder straps, like those on Essense of Australia Style D3414, for a princess-like vibe.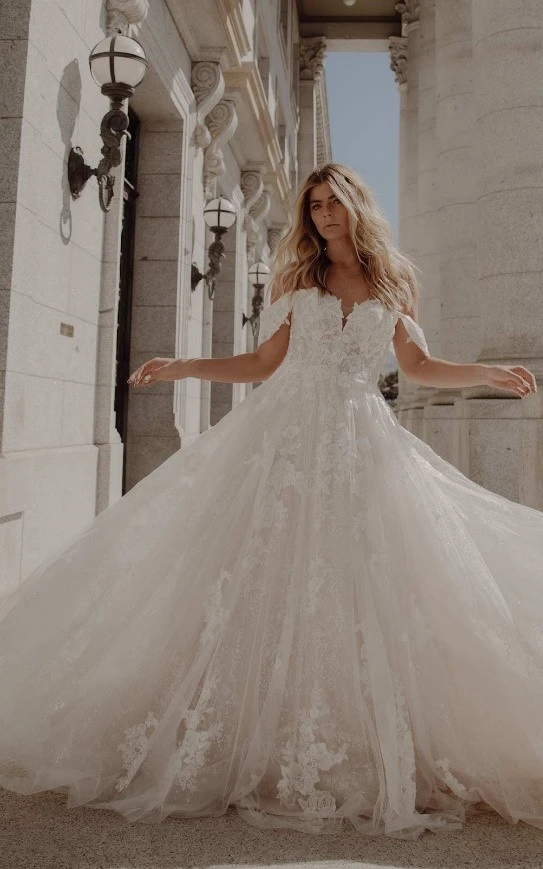 Essense of Australia Style D3414
For glamorous brides, long lace sleeves, like those on Martina Liana Luxe Style LE1177, are an ideal choice. This design features custom 3D florals on the bodice and sleeves and a luxurious tulle skirt.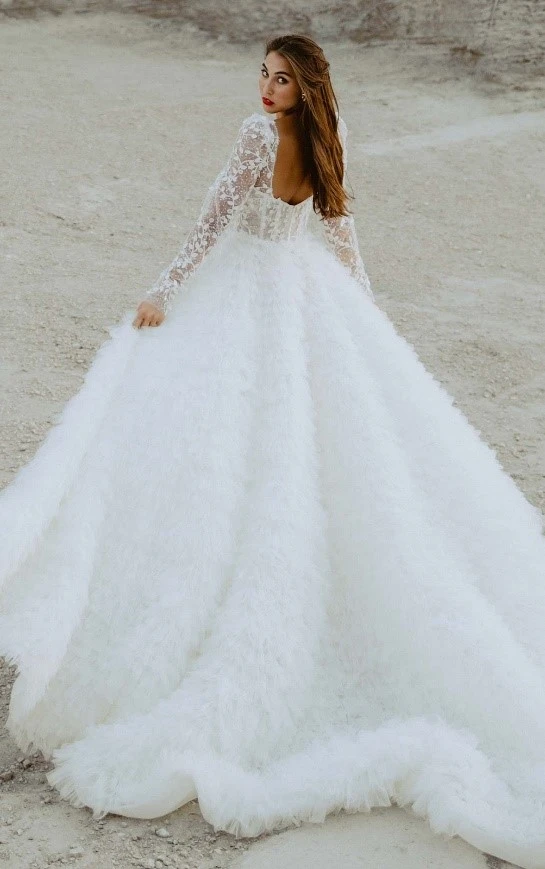 Martina Liana Luxe Style LE1177
For a whimsical touch to this royal style, we love a dress with a flowy skirt, like Style 7529 from Stella York, constructed with layered tulle tiers that float beautifully as you walk down the aisle!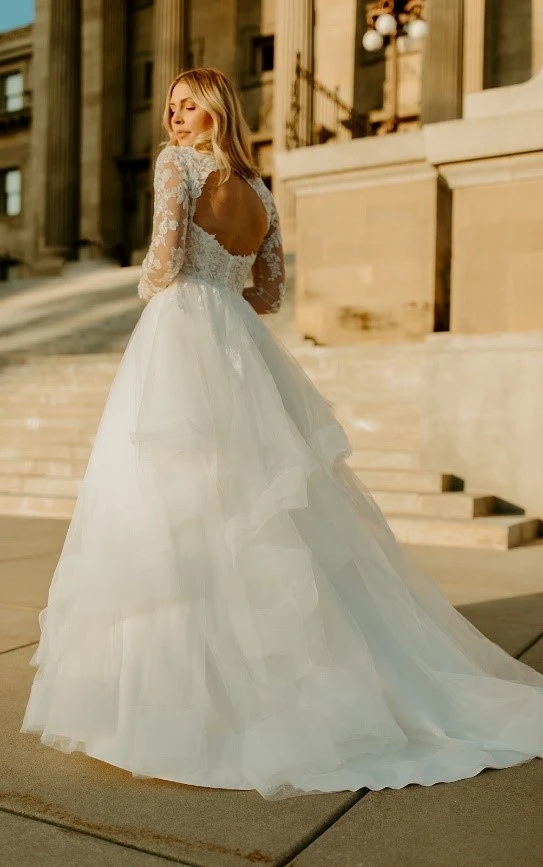 Poofy Lace Wedding Dresses
Nothing says "bridal" more than a poofy wedding dress in lace. Whether you choose a gown entirely in lace or one with just touches of lace, you're sure to make a statement! For the modern bride who wants to feel like a princess, Essense of Australia Style D3402 is a stunning choice. This gown features a lace-covered bodice with hints of sparkling sequins combined with a voluminous skirt of layers of glitter tulle that make for a show-stopping yet regal gown.
Essense of Australia Style D3402
Frothy lace wedding dresses can also be glamorous, and Stella York Style 7194 shows just that! This timeless ballgown combines swirling lace, sheer cutouts and a plunging V-neckline for a flirty bridal look, while a flowy and frothy skirt brings dramatic volume fit for a princess.
And finally, for a romantic yet elevated gown, Essense of Australia Style D3384 may be the one. This dress has vintage lace details and a fabulous shimmering layered skirt made for dancing the night away!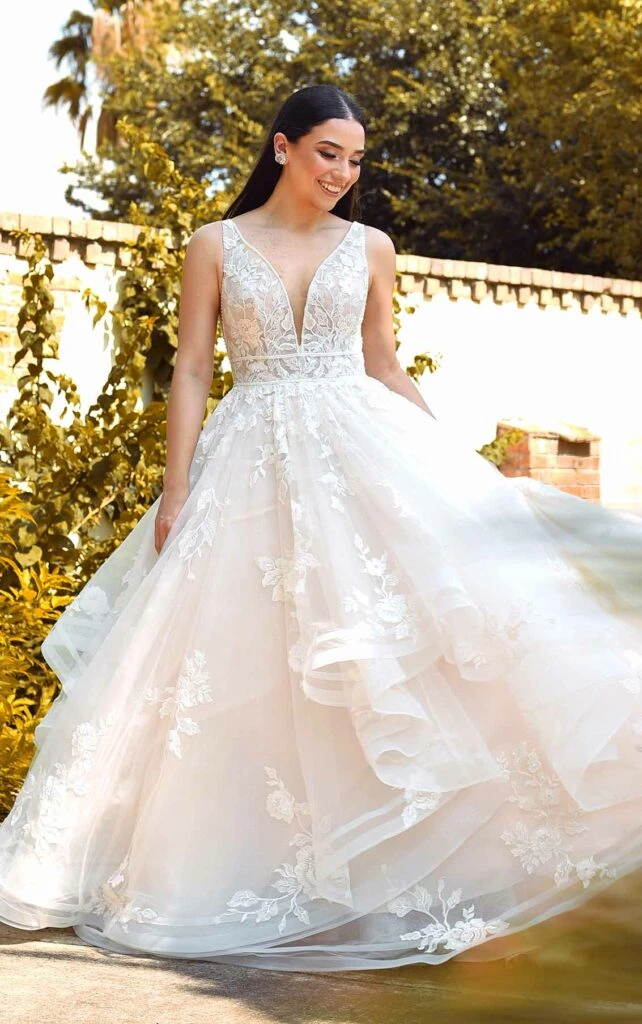 Essense of Australia Style D3384
Poofy Ballgown Wedding Dresses
For the ultimate poofy wedding dress, look no further than our selection of beautiful ballgowns! This silhouette always brings the drama with a voluminous skirt and can be adapted to fit your bridal style. A poofy layered skirt with floating lace details like on Martina Liana Style 1105 is light, airy, lively and creates beautiful movement.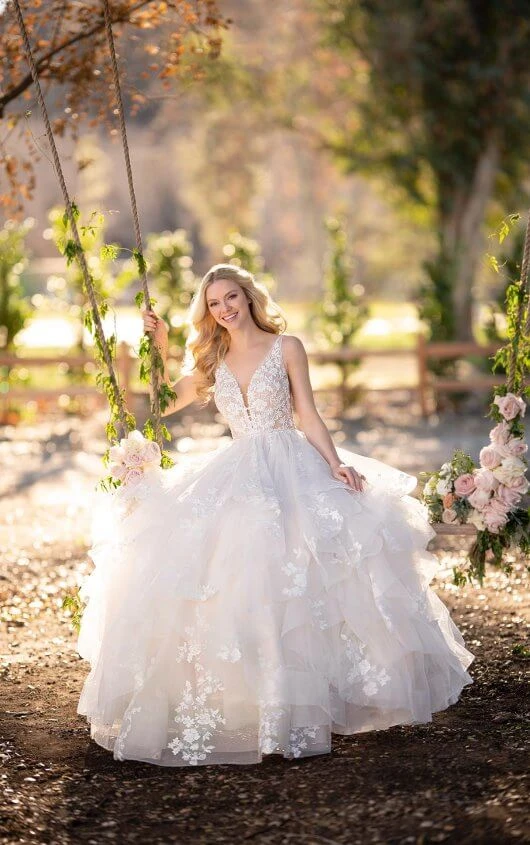 For a romantic and enchanting look, Essense of Australia Style D3587 has all the details brides need—like delicate floral appliqués, a semi-sheer fitted bodice and embroidered floral embellishments that flow into a stunning cloud of delicate tulle. This skirt has less volume and is more flowy and ethereal, making it perfect for an outdoor wedding!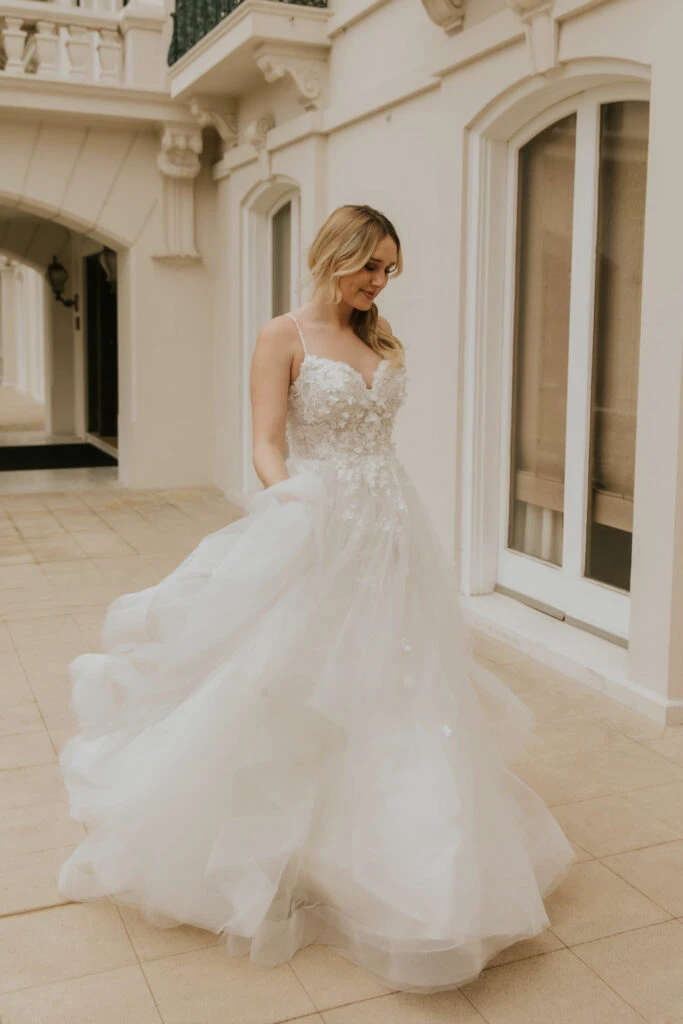 Essense of Australia Style D3587
And for the ultimate fashion-forward moment, look no further than Martina Liana Style 1449! This poofy wedding dress features a dramatic multi-layer feather and tulle skirt that is a fashionista's dream. When paired with a lace bodice embellished with sequins and beading, this gown truly makes a wow statement.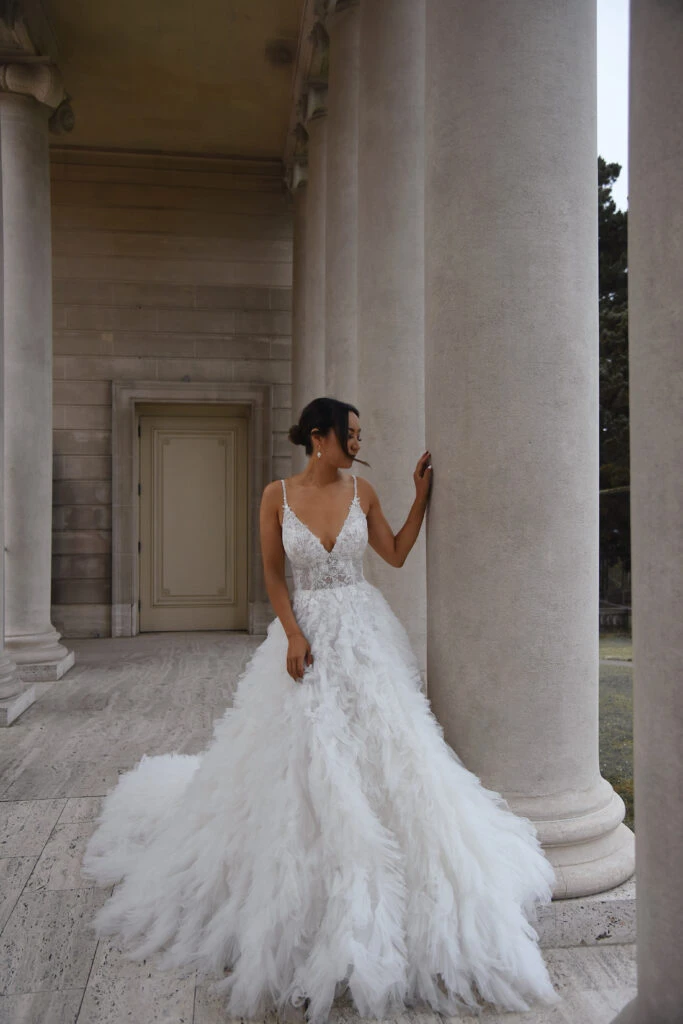 Poofy Wedding Dresses That Sparkle
Calling all the sparkle-loving brides! For the bride who truly isn't afraid to sparkle in a big way, Essense of Australia Style D3445 is a fantastic choice for your big day. The modern lace and sequin bodice features a sexy, plunging illusion neckline framed by a luxurious embroidered and beaded trim, while the sparkle tulle skirt floats into a fabulous train for a bridal gown fit for royalty!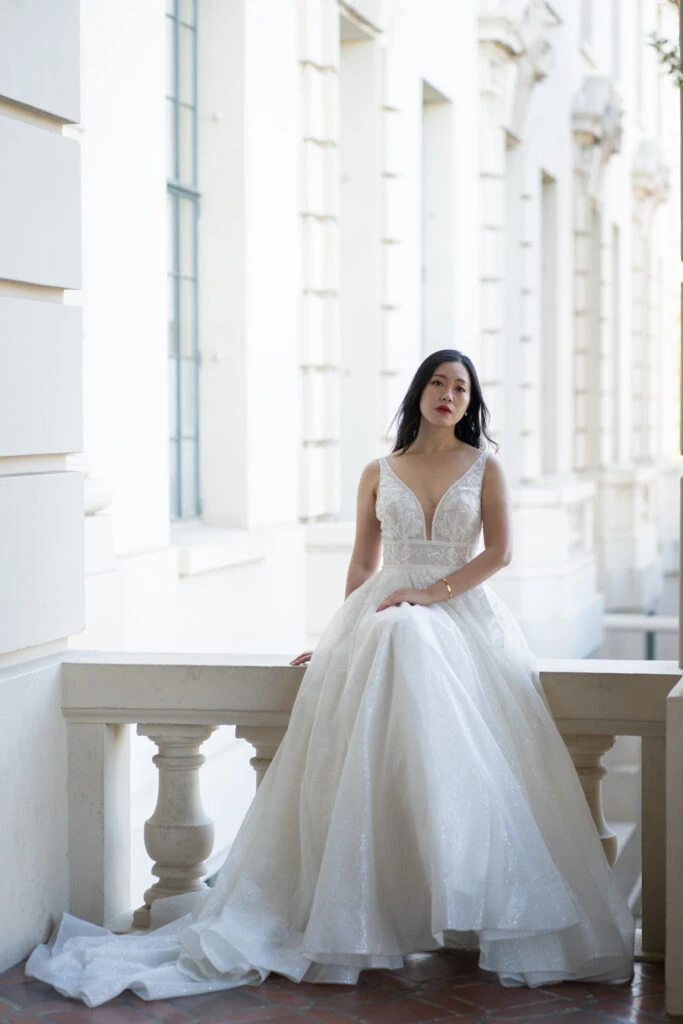 Essense of Australia Style D3445
For an enchanting look, check out Stella York Style 7550, a flattering A-line silhouette with gorgeous vine-themed lace adorned with sequin details. The gathered glitter tulle skirt adds that extra wow factor and allows you to shimmer and shine down the aisle.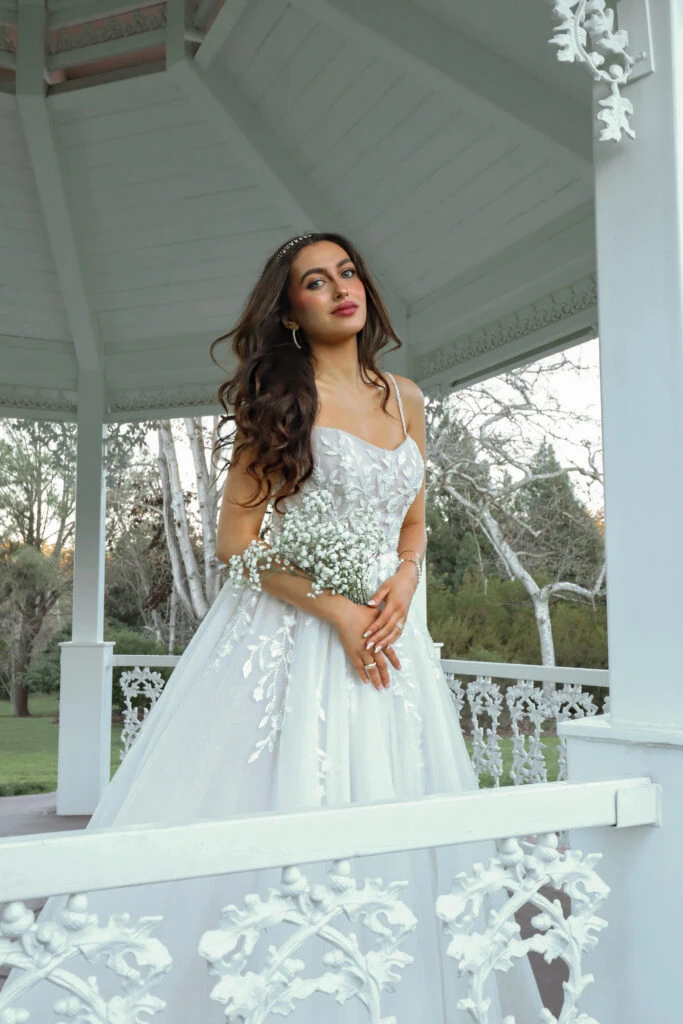 And for the boho princess bride, Stella York Style 7336 brings the sparkle and poofy skirt, but in an effortless way. Embossed glimmer tulle with an inventive linear design throughout pairs with silver and ivory sparkle details on the bold, swirling patterns on this dress for a dazzling effect! We can picture this gown for a beach or outdoor wedding.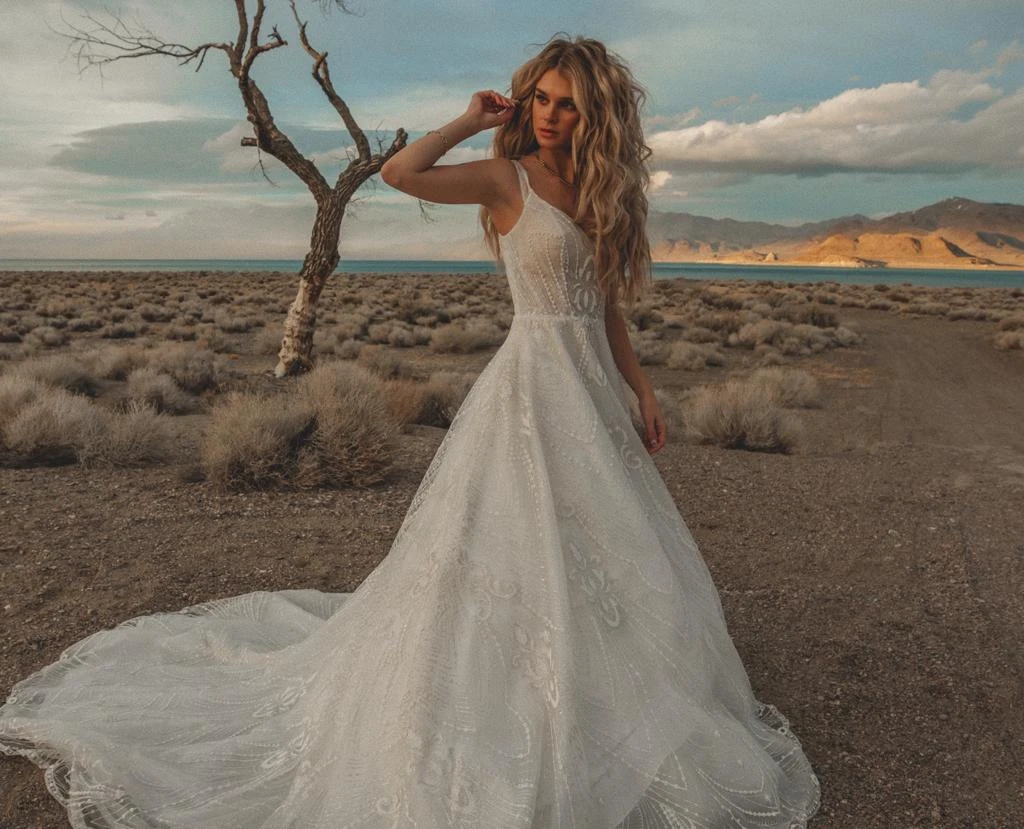 How to Make a Wedding Dress Poofy
If you've found a wedding dress you love but want to add extra volume to the skirt, it's an easy fix! Typically, a skirt is made poofy by layers of tulle, a hoop skirt or horsehair, which gives the skirt structure. For even more volume, brides can add a slip with full layers of tulle under the dress. Your seamstress may be able to sew the slip or individual layers of tulle into your dress for a seamless look that can be customized to the desired fullness. After the extra layers are sewn in, you'll notice that the skirt will appear more puffed up! Remember to consult an alterations expert when trying on gowns if you feel you may want to add extra volume. The amount of volume you can add will depend on the gown's silhouette and construction.
Are you looking to find the poofy wedding dress of your dreams? Find a bridal shop near you by clicking here, or explore even more bridal gowns for the ultimate bridal fashion inspiration!